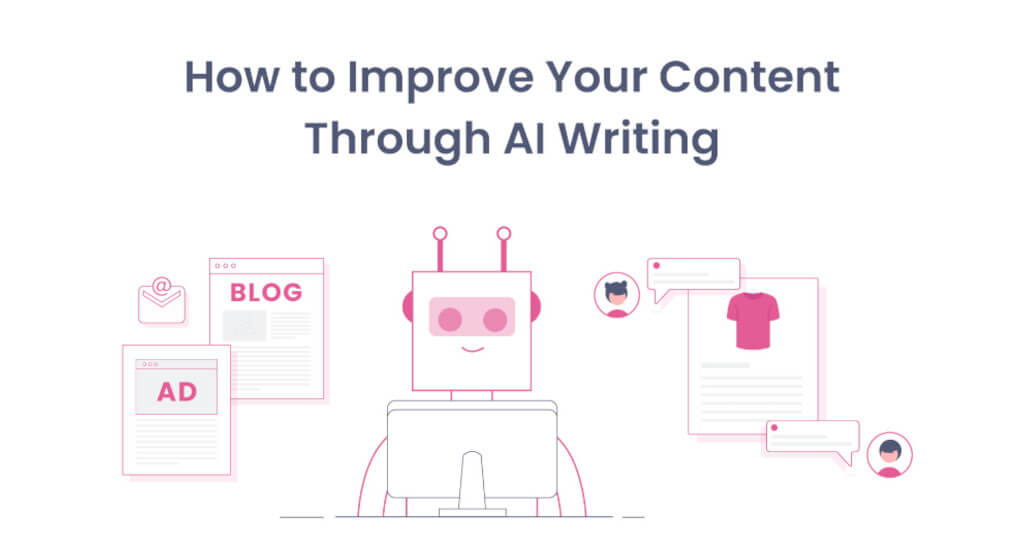 Although content intelligence tools are capable of creating some of your content for you, these tools shine when it comes to content strategy. This artificial intelligence will use the data you provide and organize it to discover connections, trends, and patterns. This can assist you in identifying challenges, add to the data analysis you have been doing, and speed up the learning process. You can use these particular recommendations to improve the content that you provide for your customers.
If you're looking into content intelligence, your existing content could likely use some improvement. Try to define your problems in as much detail as possible so that you can determine whether or not these tools can be of assistance. If you're having trouble getting started, try starting with a specific problem and working your way backward from there. Examine each action you took leading up to this disheartening conclusion. After that, put down on paper your suggestions for possible solutions.
Learn About the Different Content Intelligence Platform Options
Only five percent of marketing professionals make use of artificial intelligence and machine learning, according to research conducted by Statista. Standard practice now calls for insights derived from data collected by website analytics and search engine optimization tools. On the other hand, marketing leaders might not personally know anyone who is utilizing content intelligence just yet.
Because of this, it is essential to conduct research into various content intelligence platforms. Begin by examining each AI tool and the features it offers. While others will provide tools for content creation and management, some will include content management tools. Content intelligence platforms might:
Generate content automatically through the use of natural language generation (NLG)

Find content that is related or relevant by using your understanding of natural language (NLU)

Apply content analysis using large amounts of data.

Make some suggestions regarding the wording

Create and promote content automatically using automation.
Integrate With Various Other Tools for the Management of Content
A platform that contains an excessive number of tools may cause your team and its resources to become overwhelmed. Therefore, you will want to compare the features that each platform offers with the list of features that are ideal for you. It is also a good idea to take a look at your technology stack to determine whether or not any of the content marketing tools you are currently using include the capabilities you are seeking.
Templates for Digital Transformation Are the Featured Tool
Bringing in additional members of the team during this stage may prove to be beneficial. You might find that looking at things from a different perspective helps you narrow the scope of your search.
Learn How Each Platform Manages the Data It Stores
As you progress through your investigation, you should pay close attention to the data collection, utilization, and storage practices of each platform. Because the effectiveness of this tool is dependent on data, it is essential that how each platform handles data is to the policies of your company and the expectations of your customers.
For most clients, concerns regarding data ownership and privacy are at the forefront of their minds. In a survey conducted by Cisco in 2021, the respondents indicated, to a rate of 86%, that they care about the privacy of their data, and 79% consider privacy to be a factor when making a purchase.
You must give some thought to the different kinds of data that your company will require to make effective use of this resource. What happens if the amount of data preparation that is required is excessive for your team to complete consistently? When making predictions, the majority of AI tools draw from a wide variety of information sources. The data that your content intelligence tool uses to provide insights can be skewed if the data pipeline experiences an interruption.
Determine Which Capabilities Your Team Could Benefit From Using Content Intelligence
It takes some time for a company to develop a content strategy, put that strategy into action, and develop the processes necessary for content marketing. Therefore, any artificial intelligence tool for content needs to easily integrate into the workflow and strategy that you already have.
As you narrow down your choices for content intelligence, you should be careful not to become overly excited or overwhelmed by additional features that you do not require. When evaluating each feature, you should try to keep one primary point of value in mind. When you are prioritizing, you shouldn't just concentrate on how the product will be used by your employees. In addition to this, it is a smart move to inquire about things like:
How can this tool assist our team in meeting the expectations of our customers?

Does this tool have the potential to impact the goals of the business?

Are there any suggestions made by stakeholders that we could implement using this tool?

Always keep in mind how this tool can help improve your content marketing and do so whenever possible.
Make Sure Your Platform Selections Are in Line With Your Long-term Goals
Scalability is one of the benefits that can be gained from implementing machine learning into the content. It is possible that at this time you do not want to automate processes or create content using AI. On the other hand, you do not have any idea how the marketing of content might develop over the next three to five years.
The content of businesses needs to adapt to keep up with the ever-changing landscape of search engines and other digital channels. According to Engage Platform, in today's competitive digital market, keeping up with the most recent trends is essential to standing out from the crowd and gaining a competitive advantage. Because of this, looking to the future should play a significant role in the decisions that you make. For instance, many of the same vendors who sell tools for content intelligence also sell other kinds of tools. Investigate these tools as thoroughly as you can concurrently with selecting a content intelligence platform, if at all possible. This will provide you with a basis for the future planning of your technology stack.
Because content strategy is where this tool shines the brightest, conducting content intelligence tests can be challenging. If you've ever developed a strategy before, you know that the execution, publication, and evaluation of it can take a significant amount of time. Before moving on to the next step, it is strongly recommended that you conduct as much research as you possibly can.
Develop a Strategy for Putting Your Content Intelligence Platform Into Action and Create a Plan to Implement It
Create a plan for installation, training, and usage of the content intelligence platform you're considering investing in before making a final purchase decision. Any tool that provides such a diverse assortment of insights may be difficult to administer effectively. However, having a plan can assist you in ensuring that the group will derive the greatest possible benefit from this investment. While you are developing this strategy, you need to determine and figure out:
Which characteristics provide the greatest return?

Which aspects will require more instruction than others, and why

Capabilities of the platform that are not worth the trouble that they cause.
This planning process might not feel like a necessary step, but it can assist you in demonstrating the potential return on investment of the platform. And that's not the end of it. An ideal strategy for content marketing will connect with the appropriate audience, assist with sales and service teams, and improve the quality and productivity of your content team. If you put in the time and effort to prepare, content intelligence can help you achieve those goals and even more.
Conduct Software Tests
When you have your list of potential content intelligence software solutions narrowed down, it is time to test out your top choices. When testing software that uses artificial intelligence, there are a few things that you should keep in mind.
First things first, check to see if the software lives up to your standards. Check that all of the features you anticipated are there and that they function as expected. If you are unsure of how to use any of these features, you should check to see if the documentation or support team can quickly answer any questions you may have.
The next step is to put your new content intelligence tool through its paces using your workflow. While you are researching new content topics, measuring the performance of existing content, or updating your content strategy, take notes. You can use this to your advantage to determine whether or not the tool contains any errors or bugs. Even though there is no such thing as a perfect tool, you want to make sure that the additional value you are receiving is greater than the additional labor you will have to perform if something goes wrong.
For instance, what should you do if you are unable to find any helpful resources on topics that are important to your company? If this tool is unable to provide you with the niche content ideas you require, then you should probably look elsewhere. Having said that, AI is a complex technology, and before making a final decision, you might need to do some troubleshooting first.